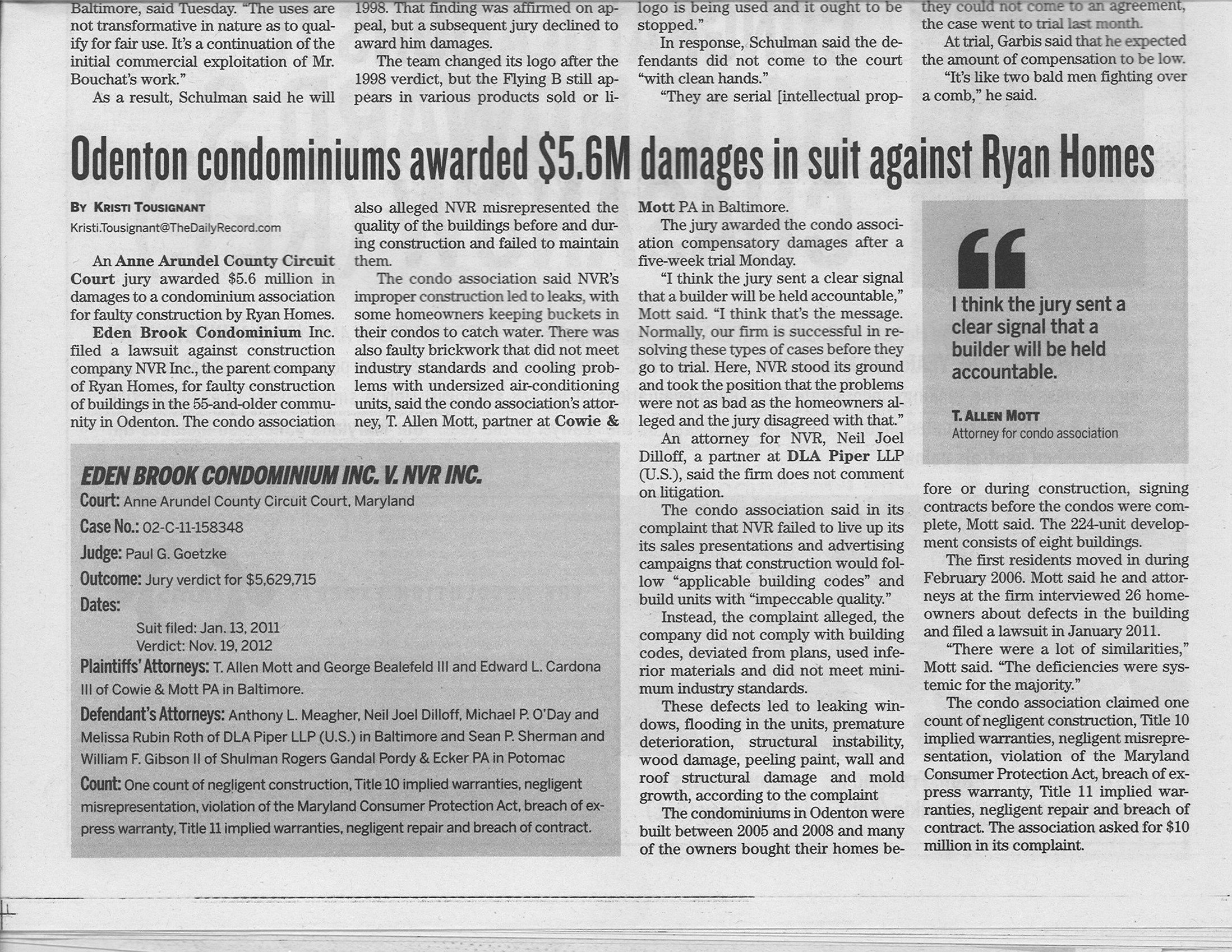 MARYLAND CONSTRUCTION LAWYERS OBTAIN $5.6M IN DAMAGES FOR CONSTRUCTION DEFECT REPAIRS IN LAW SUIT AGAINST NATIONAL BUILDER
ODENTON CONDOMINIUMS AWARDED $5.6M IN DAMAGES IN SUIT AGAINST RYAN HOMES
 Posted: 7:35 pm Tue, November 20, 2012
By Kristi Tousignant
Daily Record Legal Affairs Writer
An Anne Arundel County Circuit Court jury awarded $5.6 million in damages to a condominium association for faulty construction by Ryan Homes.
Eden Brook Condominium Inc. filed a lawsuit against construction company NVR Inc., the parent company of Ryan Homes, for faulty construction of buildings in the 55-and-older community in Odenton. The condo association also alleged NVR misrepresented the quality of the buildings before and during construction and failed to maintain them. [The condo association was represented by Maryland construction lawyers from the law firm Cowie & Mott, P.A.]
The condo association said NVR's improper construction led to leaks, with some homeowners keeping buckets in their condos to catch water. There was also faulty brickwork that did not meet industry standards and cooling problems with undersized air-conditioning units, said the condo association's attorney, T. Allen Mott, partner at Cowie & Mott PA in Baltimore.
The jury awarded the condo association compensatory damages after a five-week trial Monday.
"I think the jury sent a clear signal that a builder will be held accountable," Mott said. "… I think that's the message. Normally, our firm is successful in resolving these types of cases before they go to trial. Here, NVR stood its ground and took the position that the problems were not as bad as the homeowners alleged and the jury disagreed with that."
An attorney for NVR …  said the firm does not comment on litigation.
The condo association said in its complaint that NVR failed to live up its its sales presentations and advertising campaigns that construction would follow "applicable building codes" and build units with "impeccable quality."
Instead, the complaint alleged, the company did not comply with building codes, deviated from plans, used inferior materials and did not meet minimum industry standards.
These defects led to leaking windows, flooding in the units, premature deterioration, structural instability, wood damage, peeling paint, wall and roof structural damage and mold growth, according to the complaint
The condominiums in Odenton were built between 2005 and 2008 and many of the owners bought their homes before or during construction, signing contracts before the condos were complete, Mott said. The 224-unit development consists of eight buildings.
The first residents moved in during February 2006. Mott said he and attorneys at the firm interviewed 26 homeowners about defects in the building and filed a lawsuit in January 2011.
"There were a lot of similarities," Mott said. "The deficiencies were systemic for the majority."
The condo association claimed one count of negligent construction, Title 10 implied warranties, negligent misrepresentation, violation of the Maryland Consumer Protection Act, breach of express warranty, Title 11 implied warranties, negligent repair and breach of contract. The association asked for $10 million in its complaint.
EDEN BROOK CONDOMINIUM INC. V. NVR INC.
Court:
Anne Arundel County Circuit Court, Maryland
Outcome:
Maryland Construction Lawyers and Litigation Attorneys at Cowie & Mott, P.A. obtain Jury verdict for $5,629,715. Our experience and proven track record enables the Maryland construction lawyers at Cowie & Mott, P.A. to resolve most construction law cases cases without the need for litigation.
MARYLAND CONSTRUCTION LAWYERS
2310 Boston Street, Baltimore, MD 21224 • P: 410-327-3800 • F: 419-327-38010 • cowiemott.com